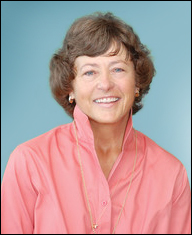 Doris Stipech is a long-time State Farm agent in Arvada, Colorado. Her agency's mission is to help people manage the risks of everyday life, recover from the unexpected and realize their dreams, and while Doris is busy fulfilling this mission, she is also giving back to her community through her volunteer work with numerous community organizations.
How did you get into the insurance agency business and why would you encourage others to take your career path?
I was a controller for a local custom home builder for 15 years and needed a change. I loved the company but was missing "people" contact and needed to learn new skills. After analyzing what I was good at and liked, I did the What Color is Your Parachute exercise. I enjoyed the insurance piece of my job, so I talked to numerous folks in the insurance industry—captive agents, life agents and independents. I decided to contact State Farm Insurance Co. after a suggestion from a friend in the industry. It was a fit, and on May 1, 1987, I joined State Farm as a "scratch" agent. I loved the challenge, the people and State Farm.
How important is it to you to help your customers make smart purchasing decisions when insuring their car(s), home and personal belongings?
Helping customers is the most important piece of what we do. After visiting with the customer and finding out what they have, what their concerns are and what they are trying to accomplish, we come in. Our benefit is to share what we know of the risks they may face and what solutions are available and provide information to let them make the best business decisions for them and their families.
You have been involved for many years representing State Farm, the industry and your agency through involvement in community groups, legislative grassroots and participation in educational initiatives. How has this engagement and networking at an industry level been beneficial to you professionally and personally?
When you are working in an industry, it is imperative, in my opinion, to know what is happening with that industry locally and nationally and to effect positive change when possible. Protecting the industry, your customers and your livelihood is what motivates me to be engaged. I am also a person who believes strongly that when you are fortunate in your life you "MUST" give back. I have been blessed and feel so fortunate to work in a great community, Arvada, and I support my community by volunteering with the Arvada-Jefferson Kiwanis, Red Rocks Community College Foundation Board, the Arvada Community Food Bank, Habitat for Humanity of Metro Denver, CPR and numerous others. It is good for me, good for my business and good for the community.
Why would you encourage other insurance professionals to get more involved with RMIIA and use RMIIA resources in educating customers?
RMIIA offers the insurance industry, agents and customers many services that we as individuals could not. The public relations piece is invaluable to all of us on insurance issues in general but gets even more important in times of disaster. We use the printed resources to help our clients understand what we are telling them. They are excellent. I would like to thank RMIIA for helping protect everyone with their lobbying efforts as well. In a time of legislative contention they do an outstanding job of negotiating the land mines.