Wildfire is a growing threat in the Rocky Mountain Region, where the population is booming in the mountains and foothills. People often don't realize the dangers of living in the Red Zone (dangerous wildfire area). They're drawn here by the breathtaking views, but they don't always see the potential for losing their homes to wildfire. To help protect themselves and their property, homeowners need to be aware of the importance of mitigating wildfire hazards AND be aware of the insurance impact of living in high-risk areas.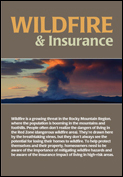 The Rocky Mountain Insurance Information Association has partnered with government agencies to provide homeowners information on protecting their properties against wildfires and making them more insurable.
Partners include the Front Range Fuels Treatment Partnership, the U.S. Forest Service, Colorado State Forest Service, Colorado Division of Emergency Management, the Front Range Fuels Treatment Partnership Roundtable, the New Mexico Insurance Division, and New Mexico State Forestry.
Download: Colorado Brochure | New Mexico Brochure
Contact RMIIA to have a copy mailed to you.
Also visit: Wildfire Statistics