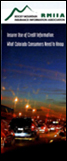 Insurer Use of Credit Information: What Colorado Consumers Need to Know
Download a brochure or email us to request a copy in the mail. Please include your mailing address.
Have you ever applied for a loan or credit card? Rented an apartment or obtained utility service? If so, you know your credit history is very important. The information contained in your credit report can have a major influence over many parts of your life, including your insurance rates.
That is why Colorado passed stringent consumer safeguards in 2004 to help protect consumers and insurers' use of credit.
Following are common questions about credit information and how it relates to personal insurance, as well as, a list of safeguards in place to protect consumers like you. As a consumer, it is wise to speak to your agent or insurance company about how your insurer uses credit information. If you are not satisfied, you are encouraged to shop around for a different insurer that better meets your needs.
Frequently Asked Questions
Q. How can the use of credit information help companies offer coverage to more people?
A. The use of credit-based insurance scores is a critical, and highly predictive, component to the underwriting and rating process. Companies have reported that they are now able to accept some customers who would have otherwise been denied coverage using only more traditional underwriting criteria. Companies can now offer insurance products to customers at prices that more fairly and accurately reflect their level of risk.
Q. Do insurance companies deny or cancel coverage for persons solely because of bad credit?
A. No. Credit is one of many factors used to determine a person's rate. Persons who pose a higher risk may receive a higher rate. Companies also recognize that people have control over their credit and, over time, can improve it. After a policy has been in effect for a certain amount of time, some companies may reorder credit information on the customer that may have a positive effect on their rate. In fact, Colorado has strong protections for people who can prove they are victims of identity theft or who may have their credit adversely impacted by divorce.
Q. Can my credit-based insurance score help me save money on my insurance?
A. Yes. Credit-based insurance scores allow insurers to charge lower premiums to customers who are better risks. In fact, insurance companies report that on average, two-thirds of their customers have lower premiums due to a good insurance score. For most people, a better insurance score, combined with a good driving record, helps them qualify for a better rate.
Q. Is credit information the only factor used to determine my insurance premium?
A. No. Other factors that may be used are prior insurance, age, driving record, marital status, vehicle type and age, where the vehicle is garaged, proximity of your home to a firehouse, and the number of cars on a policy, just to name a few.
Q. How do insurers deal with errors in credit reports?
A. Consumers have many rights under Colorado and federal law relating to their credit reports. If you have been denied insurance or had a premium increase because of credit information and you believe an item on your credit report is inaccurate, you may notify the credit bureau(s) to re-verify the information. After the investigation is complete, the insurer will typically order your credit report and re-compute the premium.
Q. How are Coloradans protected by this law?
A. Colorado enacted stringent consumer protection with regard to the use of credit information, including:
Insurers cannot deny, cancel or fail to renew coverage based only on credit information.

Insurers cannot use income, gender, address, U.S. postal ZIP code, ethnic group, religion, marital status or nationality of the consumer as factors when determining a credit-based insurance score.

Insurers cannot take an action that results in an adverse effect against the consumer solely because the consumer does not have a credit card account.

Insurers are prohibited from considering an absence of credit information or an inability to determine credit information in underwriting or rating a policy, except under certain circumstances.

Insurers cannot take an adverse action against a consumer based on credit information unless an insurer obtains and uses a credit report issued or an insurance score calculated within 90 days from the date the policy is first written or renewal is issued.

Insurers cannot use credit information adversely impacted by the dissolution of a marriage, or the credit information of a former spouse as negative factors when determining an insurance score.

Insurers must correct rates for any errors identified through the FCRA dispute resolution process, just like most vendors.

Insurers must notify consumers in advance that their credit report will be ordered. The insurer is required to provide an explanation of the significant characteristics that impact the development of a credit score upon request or may place this information on the initial disclosure form.

If an insurer takes an adverse action by denying, canceling, increasing a consumer's premium or decreasing a consumer's coverage or amount of insurance based on the consumer's credit information, the insurer must provide the consumer with a phone number for their consumer reporting agency and notify the consumer of their right to a free copy of their credit report.

Insurers cannot use non-consumer initiated or insurance inquiries as negative factors when determining an insurance-based credit score.

Insurers cannot consider collection accounts with a medical industry code when determining an insurance-based credit score.

Insurers must file their "credit model" - method for determining their insurance-based credit score - in advance with the Colorado Division of Insurance.
The above information is meant to serve as a general guideline only. If you have any questions about your policy, please contact your insurer or the Colorado Division of Insurance directly.
Also Visit:
Federal Trade Commission for information on your rights under the Fair Credit Reporting Act (FCRA) or call (202) 326-2222.