RMIIA partners with the Colorado State Patrol and Total Resource Auctions to provide Colorado schools and community groups driving exhibits through the Safe Choices Program. The victims' families hope the traffic safety exhibits will help give other teenagers a better chance to live their dreams. The following exhibit – No Going Back is currently available.
Exhibits may be reserved by faxing or emailing the reservation form to our office at least two weeks in advance of your event. Please call (303) 790-0216 or email us to discuss available dates. Please note that special arrangements will need to be made for reservations outside the Front Range.
No Going Back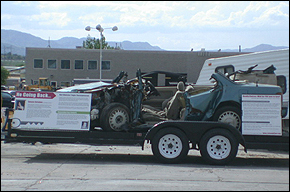 RMIIA's new memorial exhibit, "No Going Back," was the result of a fatal crash in Lakewood. 17-year old Samara Stricklen was killed on March 13, 2007, when she was a passenger in the car driven by Seth Mutschler and they were struck by an SUV driven by a 17-year old girl. The newly licensed teen driver crossed four lanes of traffic and slammed head-on into Seth's Honda Accord. She was drunk, had smoked marijuana and broke teen driving laws for carrying teen passengers. The teen was sentenced as an adult to 12 years in prison—the judge ordered her to be incarcerated in a youthful offender program.
This crashed car promotes awareness and educates parents and teens about the dangers of inexperienced driving. It encourages safe driving habits at all times, under all circumstances. This exhibit is ideal for school programs, fairs, trade shows, safety meetings and conventions—anywhere that people who drive, or will soon drive, are gathered.
To reserve this exhibit, please fill out the reservation form or call RMIIA at (303) 790-0216 for more information.