The largest recorded hailstone in U.S. history fell on July 23, 2010, in Vivian, South Dakota, measuring 8 inches in diameter and weighing 1.94 pounds. The prized stone is now on ice at the National Center of Atmospheric Research in Boulder, Colorado. The previous record hailstone fell in Aurora, Nebraska, on June 22, 2003, and measured 7 inches in diameter and weighed 1.67 pounds (NOAA).
New hail shingle performace scorecard reflects product, marketplace changes driven by research. Click here to see more from IBHS.
National Hail Statistics
According to a March 2021 NICB Hail Report, From 2018 through 2020, hail claims increased 2% from 832,377 to 849,033 and hail QC (questionable claims) submissions increased 34% from 1,462 to 1,958. From 2018 to 2020, hail claims tended to occur most often in the late spring to early summer months (April - June). Conversely, both hail claims and QC;s tended to occur the least often in the winter months (November - February)
The nation has experienced severe storms (wind, tornado, hail) that are occurring with more intensity and affecting more areas of the country. While scientists debate why these storms occur, no one argues with their effects—extensive property damage and, many times, loss of life. The property damage can be as minimal as a few broken shingles to total destruction of buildings.
There were 4,611 major hail storms in 2020, according to statistics culled from NOAA's Severe Storms database. In 2019, 5,382 major hailstorms occurred.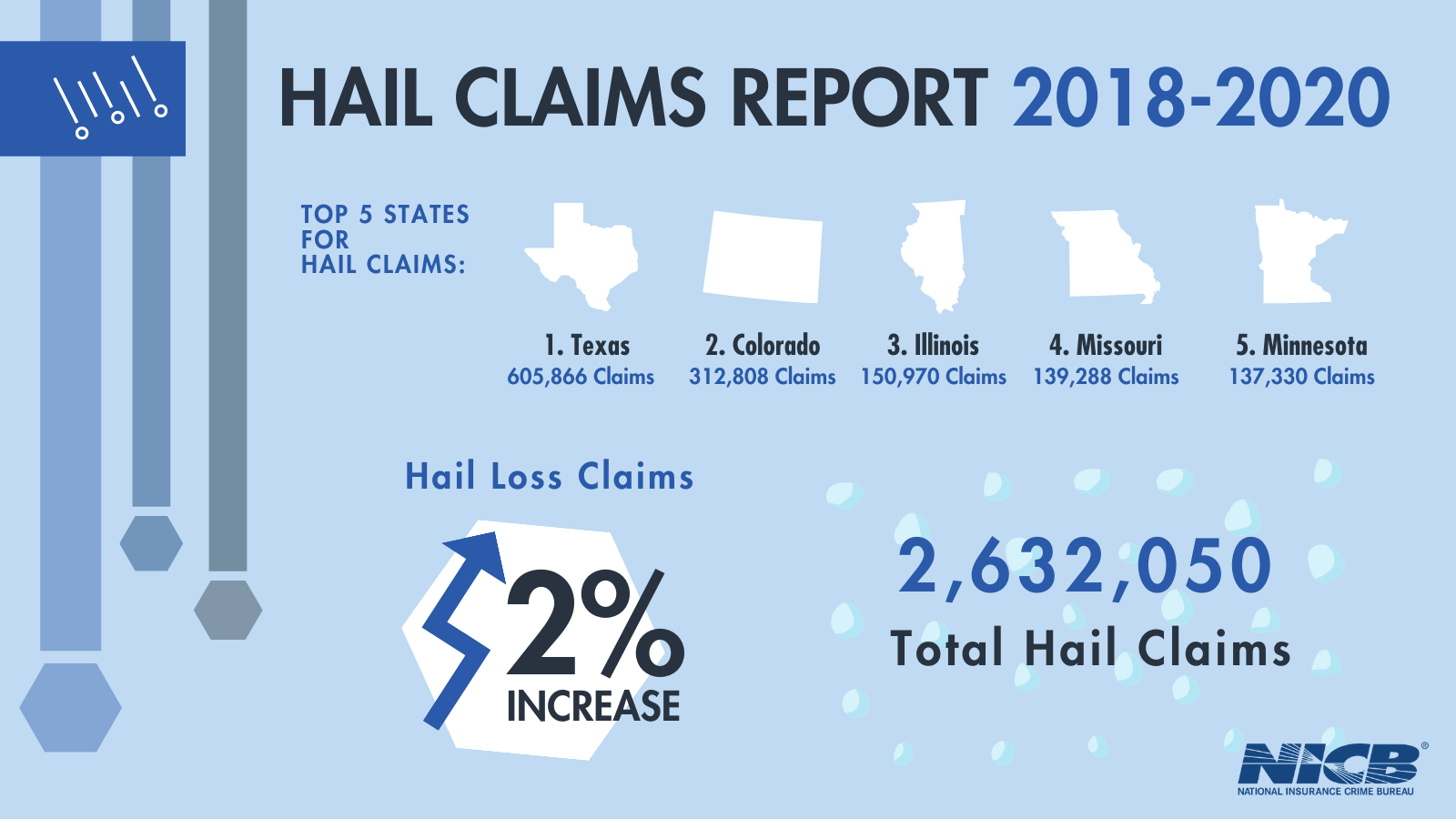 According to Verisk's 2021 report, The Hail Hazard and Its Impact on Property Insurance, 6.2 million properties in the United States experienced one or more damaging hail events in 2020, about a million fewer than in 2019, reflecting the frequency fluctuations noted over the past 10 years. 2020 claims resulted in almost $14.2 billion in losses. Texas had the highest number of properties affected by hail, over 1.5 million properties, accounting for almost a quarter of total U.S. properties affected. Illinois followed with about a half-million properties affected, and Indiana ranked third with about 372,000 properties affected. Besides reiterating the spread of the hail peril into all states and the low frequency/high severity of hail occurring at irregular intervals, the report discusses the long tail aspect of hail losses due to the vulnerability of roofs to hail damage, which is often out of sight.Verisk Estimates.
Top 5 states for major hail events in 2020
| | | |
| --- | --- | --- |
| Rank | State | Number of Hail Events |
| 1 | Texas | 601 |
| 2 | South Dakota | 377 |
| 3 | Kansas | 341 |
| 4 | Oklahoma | 341 |
| 5 | Nebraska | 313 |
| | United States | 4,611 |
*One inch diameter or larger. From III.org
The United States experienced the largest insured loss event of 2014 - a spate of severe stoms with hail across five days in May struck from Colorado to Pennsylvania, causing insured losses of $2.9 billion.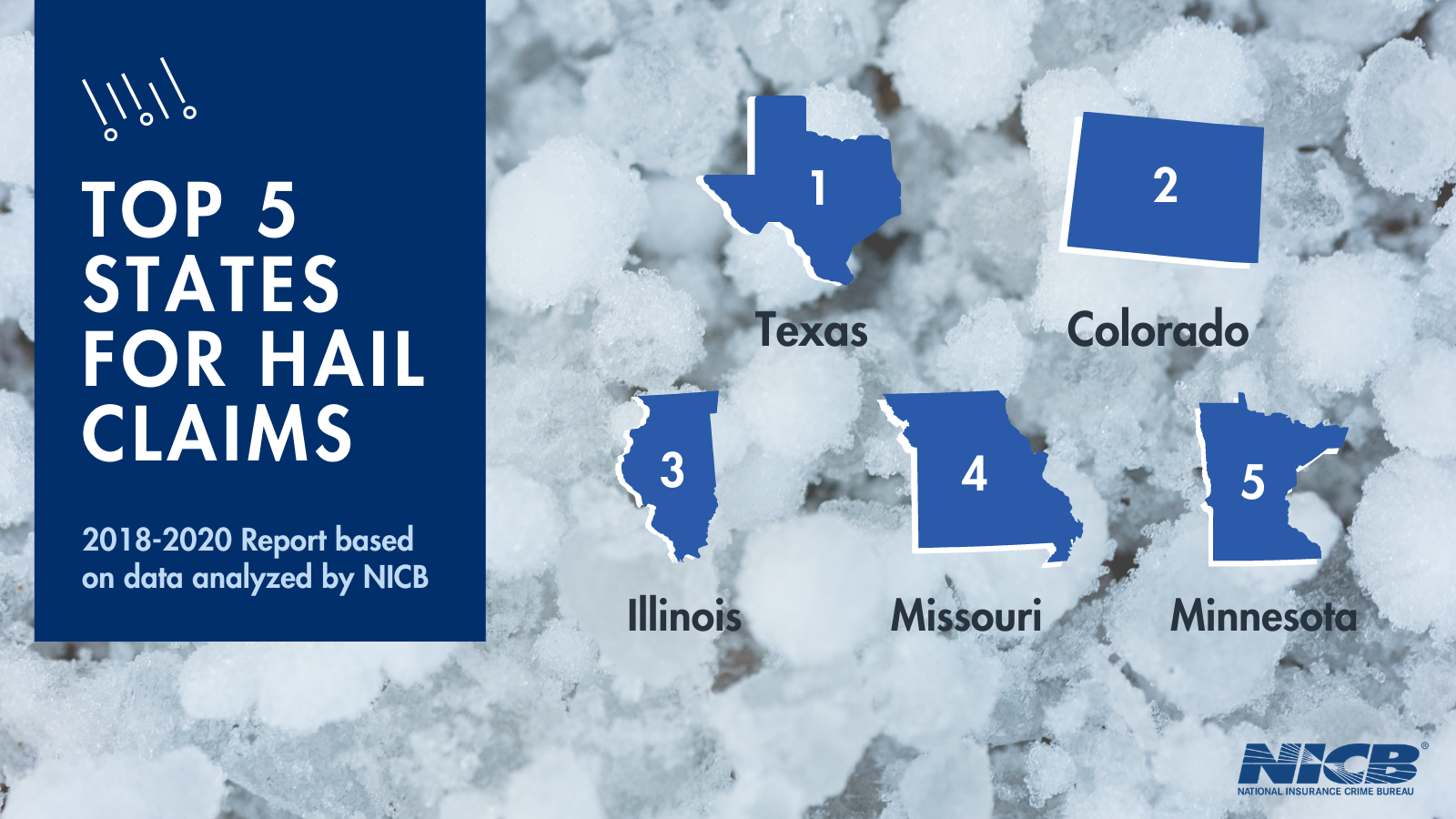 Colorado's damaging hail season is considered to be from mid-April to mid-September. Colorado's Front Range is located in the heart of "Hail Alley," which receives the highest frequency of large hail in North America and most of the world, so residents usually can count on three or four catastrophic (defined as at least $25 million in insured damage) hailstorms every year. In the last 10 years, hailstorms have caused more than $5 billion in insured damage in Colorado. As a result, up to one-half of your homeowners insurance premium may be going toward hail and wind damage costs. If you carry comprehensive coverage on your auto policy, hail damage is covered by almost all insurance companies. Comprehensive insurance is optional, but if you live in a hail prone area, the insurance industry recommends this coverage.
It's official: Colorado has a new largest hailstone on record
Colorado's Largest Hailstone 8/13: 4.85", 8.5 Ounces
Colorado's Most Costly Hail Storms
With the exception of the May 22, 2008, Windsor tornado and the hail storm that hit Pueblo on July 29, 2009, Colorado's ten most costly hail storms were centered in the Denver Metro area (which makes sense, because that's where the largest concentration of property in the state is located).
Date
Location
Cost When Occurred
(Millions)
2021 Dollars
(Millions)*

May 8, 2017

Denver Metro

$2.3 Billion

2.5 Billion

July 20, 2009

Denver Metro

$767.6

$955

July 11, 1990

Denver Metro

$625.0

$1.27 Billion

June 6-15, 2009

Denver Metro

$353.3

$439

July 28, 2016

Colorado Springs

$352.8

$392

June 6-7, 2012

CO Front Range

$321.1

$373

June 13-14, 1984

Denver Metro

$276.7

$655

June 18-19, 2018

North Denver and Denver Metro

$276.4

$293

July 29, 2009

Pueblo

$232.8

$289

October 1, 1994

Denver Metro

$225.0

$405

September 29, 2014

Denver Metro

$213.3

$240

May 22, 2008

Windsor

$193.5

$240
*2021 estimated cost calculations based on the Consumer Price Index.
New Mexico Hail Statistics
Tornadoes and hail resulted in $16.5 million dollars in insured damage around Clovis, Roswell and Logan March 23, 2007.

In September 2006, hail caused $10 million in insured losses in and around Las Cruces.

May 10, 2005, Hobbs, New Mexico's hailstorm caused approximately $21 million in insured losses.

In June 2005, Lovington, New Mexico experienced $13.7 million in claims resulting from hail.

In early Ocober 2007, Albuquerque experienced $40 million in insurance claims due to hail.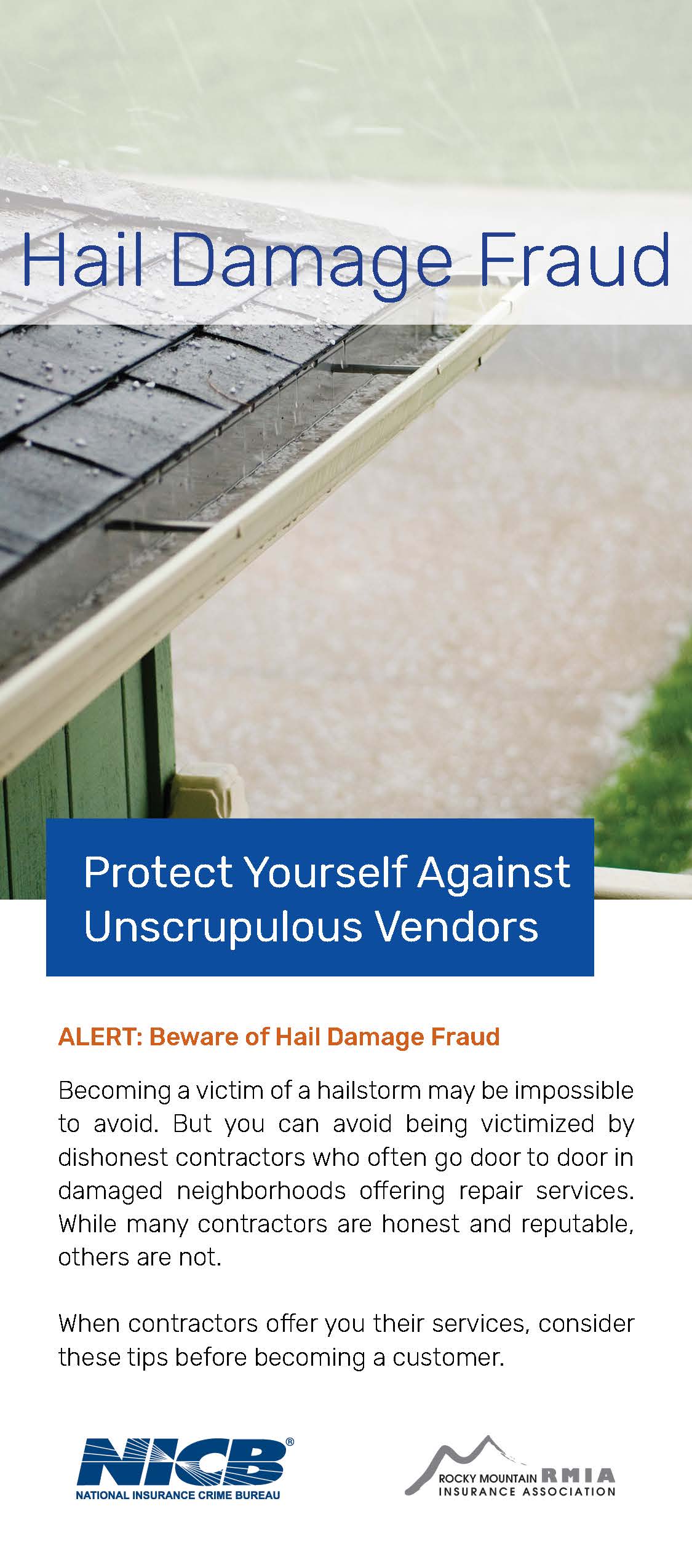 First, if a hail storm strikes, don't go out in the storm to try to protect your property. You could be injured.
Download RMIA's "Hail Damage Fraud" brochure.
Assess the damage.
Check trees, shrubs and plants around your house. If they are stripped of their foliage, there is a possibility that your roof is damaged. You should also check for roof damage if patio covers, screens or soft aluminum roof vents are dented.

Check your car for dents and broken or cracked glass.
Protect your property from further damage.
If you find signs that hail has battered your property, take immediate steps to protect it from further damage.

Cover any broken windows and holes in your roof so that no water can enter and damage your home's interior.

Cover any broken glass in your car to prevent damage to the interior from rain and remove glass from the car's interior to prevent cuts in upholstery and carpet.
File your claim
Call your agent or company as soon as you notice damage. Practically all homeowners policies cover hail damage. You car will be covered if you've purchased comprehensive coverage.

If your agent or company requests you to do so, follow up your call with a written explanation of what happened.

Save receipts for what you spend and submit them to your insurance company for reimbursement.
Select a repair company.
After an insurance adjuster has surveyed the hail damage to your property, select a reputable roofing company or auto body shop to make repairs.

Allow only the insurance adjuster and roofer you have selected to get up on your roof. Each time someone walks on it, more damage can occur.

Be wary of out-of-town roofers who move into an area and set up shop following a storm. While most of these firms are reputable, some have collected money from homeowners and moved on to the next storm site without paying suppliers or leaving work unfinished. This can leave homeowners holding the bag for those additional costs. It's a good idea to select a company with established credibility and local references. Word of mouth is still your best guide.

Be sure roofers have workers compensation and liability insurance. If they don't, you may be held liable if one of the workers is injured or if they damage a neighbor's property.

Don't make final payment to the roofing company until your roof has been inspected and you are satisfied.
Use hail resistive roofing materials.
When building a new home or replacing your roof consider using hail-resistive roofing products. The insurance industry has an Underwriters Laboratory standard ranking, the UL 2218 standard. The standard has four impact-level designations that will help you compare products. Roof coverings that show the most resistance earn a Class 4 rating; the least, a Class 1 rating.

Impact-resistant Roofs: Smart Steps to Reduce Hailstorm Damage is a free, online learning experience that consists of four self-paced learning modules. It teaches homeowners and other consumers about the benefits of installing impact-resistant residential roofing products. Click here for more information.