According to an initial study by NICB, there were 873,080 auto thefts in 2020, a 9.2 percent increase over 2019 which had 799,644 thefts, a boost of more than 73,000 thefts.
Auto theft is covered by the optional "comprehensive" coverage on your auto policy.
"Auto thefts saw a dramatic increase in 2020 versus 2019 in part due to the pandemic, an economic downtown, law enforcement realignment, depleted social and schooling programs, and, in still too many cases, owner complacency," said David Glawe, president and CEO of the NICB. "For many people, a car is the second largest investment they will ever make behind a home. As such, it is important to take simple steps to protect your investment - lock you car and take your keys, no matter where you live"
According to the National Insurance Crime Bureau, there is 1 auto theft every 7.2 minutes and 200 auto thefts every day.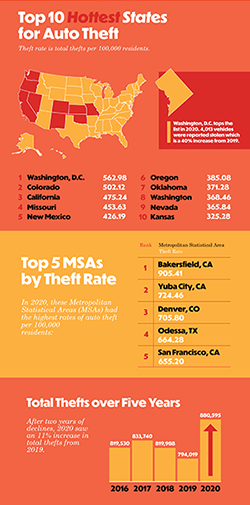 Car owners have become complacent about theft, with 56 pecent of americans reporting that they rarely or never worry that their car will be stolen according to III.org
The FBI estimates that the number of motor vehcile thefts decresed 4.0 percent in 2019 with an average dollar loss per vehicle of $8,886.
A survey of American drivers conducted in April 2007 on behalf of the National Insurance Crime Bureau and LoJack, a manufacturer of an electronic vehicle tracking and recovery system, found:
79% always lock their vehicles.
93% never leave spare keys in their vehicle.
However, the survey also found:
One-third admit they have left their car while it was running, which makes the vehicle an easy target for theft.
47% don't always park in a well-lit area.
40% don't hide their valuables. In fact, nearly half leave mail in their vehicle, a quarter have left a purse or wallet, and almost a third have left bank statements, all of which can put them at risk for identity theft.
Although 75% of respondents know that there are costs associated with vehicle theft in addition to paying the insurance deductible and the cost of replacing the vehicle that are not covered by insurance, virtually none knew that there are additional costs such as insurance premium increases, the cost of time spent dealing with police, vehicle rental costs, and the cost of time off from work. The survey was conducted by Opinion Research Corporation.
Most Popular Stolen Vehicles
Top 10 Stolen Vehicles in the United States in 2019 by Make and Model According to the NICB "Hot Wheels" Report:
| | | |
| --- | --- | --- |
| Rank | Make & Model | Total Stolen in U.S. |
| 1 | Ford Pickup (Full Size) | 38,938 |
| 2 | Honda Civic | 33,220 |
| 3 | Cheverolet Pickup (Full Size) | 32,583 |
| 4 | Honda Accord | 30,745 |
| 5 | Toyota Camry | 15,656 |
| 6 | Nissan Altima | 13,355 |
| 7 | Toyota Carolla | 12,137 |
| 8 | Dodge Pickup (Full Size) | 11,292 |
| 9 | GMC Pickup (Full Size) | 11,164 |
| 10 | Honda CR-V | 10,095 |
Click here for the most popular vehicles stolen in Colorado, New Mexico, Utah and Wyoming.
Living in urban and higher crime areas has an impact on your risk of being a victim of auto theft. Port and border cities continue to be boomtowns for the auto theft business. Of the top 25 metro areas in the nation for vehicle theft, nearly half are ports or communities with easy access to borders (*National Insurance Crime Bureau, or NICB). The NICB study compares the auto theft rates per 100,000 population in 380 metro areas.
The top 10 metro areas with highest auto theft rates in 2020:
Bakersfield, CA
Yuba City, CA
Denver, CO
Odessa, TX
San Francisco, CA
Albuquerque, NM
Pueblo, CO
Billings, MT
St. Joseph, MO
Tulsa, OK
City-by-city differences in auto buying habits are reflected in the preferences of auto thieves. For example, American vehicles tend to be the auto thief's vehicles of choice in Detroit and Chicago; pickups are popular in Albuquerque, Phoenix and Houston; and Japanese models lead the most commonly stolen list in Los Angeles.
Report fraud and vehicle theft to your local law enforcement, as well as the National Insurance Crime Bureau at 1-800-TEL-NICB (1-800-835-6422). Your call to NICB can be anonymous and you may be eligible for a reward.