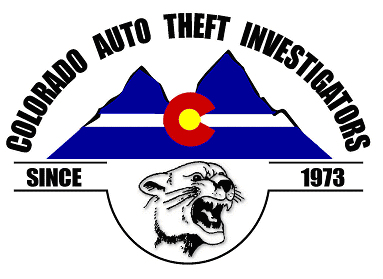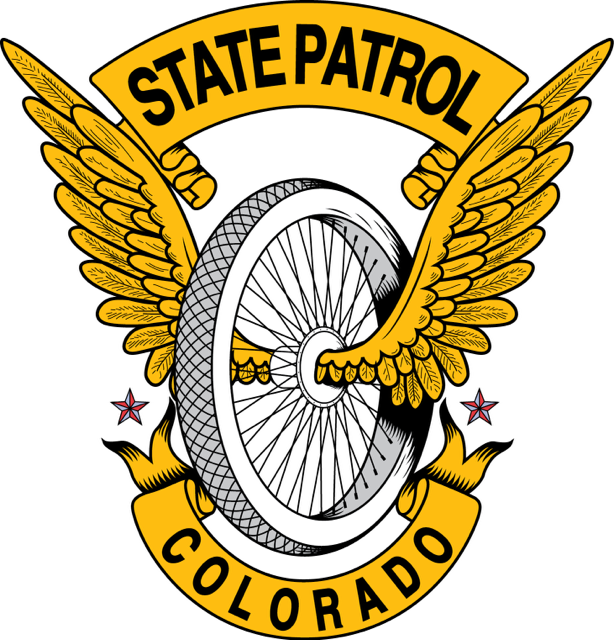 FOR IMMEDIATE RELEASE
Krista Silano, 303-832-2700 ext. 211
Carole Walker, Coloradans Against Auto Theft Chair, 303-790-0216
Twitter:@StopAutoTheftCO
Facebook: ColoradansAgainstAutoTheft
Law Enforcement & Community Partners Join Forces for Colorado Puffer Week
Statewide "Puffer Week" Campaign Reminds Coloradans that Cars Left Running Unattended are an Easy Steal
Denver, Colo. (Jan. 22, 2018) — Coloradans Against Auto Theft (CAAT), along with Colorado Auto Theft Investigators (CATI), today launched their annual statewide educational and enforcement campaign, known as "Puffer Week." The campaign runs today through Sunday, January 28 and informs the public about the illegality, risks and consequences of "puffer cars" – or cars left running unattended. Puffer cars contribute to Colorado's growing auto theft problem, and they are often involved in subsequent crimes, such as armed robbery, home invasion and drug-related offenses.
"Puffer Week aims to remind drivers that the consequences of puffing their car can go beyond getting in trouble with the law or having their car stolen," says Carole Walker, Executive Director of the Rocky Mountain Insurance Information Association and CAAT chair. "Ninety-seven percent of car thieves charged with auto theft are also charged with additional crimes. The campaign drives home the point that the simple act of leaving your car running unattended can result in a domino effect that contributes to the rise in Colorado's crime rate and puts the community at risk."
The Auto Theft Intelligence Coordination Center (ATICC) reports that 18,047 vehicles were stolen in Colorado in 2016, up more than 20 percent from 2015. According to the National Highway Traffic Safety Administration (NHTSA), 40 to 50 percent of vehicle theft is due to driver error, which includes leaving vehicle doors unlocked and leaving keys in the ignition or on the seats. While auto thefts can happen anywhere and at any time, they spike in the winter when people are more likely to puff their car to warm it up, and thieves look for the tell-tale puff of the exhaust on a cold day.
Puffing your car – or leaving it running unattended – is illegal in Colorado*. During Puffer Week, law enforcement increases warnings and citations to those caught puffing their cars, with the first offense costing guilty parties a $60 fine. This week, law enforcement and CAAT partners will put a focus on educating communities throughout Colorado on how to prevent auto theft by distributing informational flyers and Lockdownyourcar.org branded ice scrapers, as well as leveraging social media to share important messages and tips. More, the Colorado Department of Transportation (CDOT) will display auto theft and puffer car awareness messages on Variable Message Signs (VMS) placed in urban areas throughout the state.
"Last year during Puffer Week, law enforcement gave out over 350 warnings and citations to Colorado drivers caught leaving their cars running unattended, but we know that many offenders got away with it," says Bill Johnson, President of the Colorado Auto Theft Investigators. "Our hope is that this year's public awareness campaign will encourage car owners to do their part in taking the necessary steps to prevent their own cars from being stolen and used to commit other crimes."
Puffer Week Highlights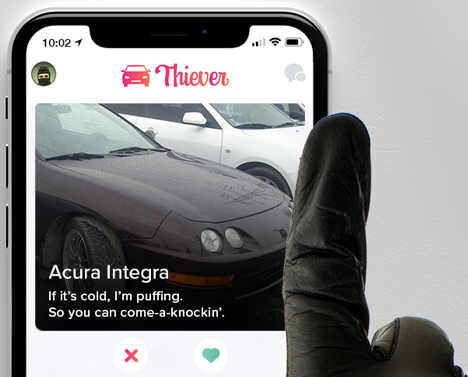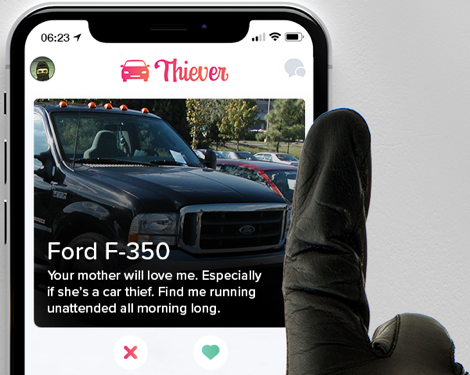 To demonstrate why puffer cars are attractive to car thieves, CAAT created "Thiever," a fake mobile app for car thieves to scope out their next steal. Modeled after popular dating apps, Thiever is comprised of profiles of the top stolen cars in Colorado, encouraging thieves to "swipe right," or steal the car. The profiles range from static images to animations that show a gloved thief swiping through the posts. They include messages that imitate dating profiles and describe a puffer car, such as "if it's cold, I'm puffing. So you can come-a-knockin'," and "your mother will love me. Especially if she's a car thief." Each profile will be shared on CAAT's Facebook and Twitter pages this week with an accompanying fact about auto theft.
Media ride-alongs available upon request.
For Puffer Week ride-along opportunities, please contact your local law enforcement or Colorado State Patrol PIOs, or Krista Silano on behalf of Coloradans Against Auto Theft at 303-832-2700 ext. 211 or krista@ameliecompany.com.
Winter Public Awareness Campaign
CAAT's winter public awareness campaign, which runs through March, features high-profile TV spots; billboards; bus, print, digital radio and digital video advertisements and social media posts that portray how car theft can lead to additional crimes. The ads ask viewers, "If you knew where auto theft ended, would you start locking your car?" View the "Lockdown Your Car" TV spot here.
How Can You Avoid Auto Theft?
• Never leave your car running unattended.
• Lock your doors every single time.
• Always park in well-lit areas.
• Don't keep a spare set of keys in the car.
• Put gifts and all valuables in the trunk or keep hidden from view.
• Buy comprehensive insurance that covers stolen vehicles.
• Report suspicious activity to a non-emergency police line.
• Use our Hot Spot map to see if there have been auto thefts where you live or work.
• Follow the National Insurance Crime Bureau's (NICB) "Layered Approach" to Protection.
• Find out what the top stolen vehicles in your region are here.
Both CATI and CAAT are funded by the Colorado Auto Theft Prevention Authority (CATPA), a statutory grant program that supports law enforcement, prevention and training programs through the collection of $1.00 for every insured vehicle.
For more information about auto theft in Colorado, visit www.lockdownyourcar.org and the "Lockdown Your Car" Facebook and Twitter pages.
*A Colorado law that went into effect in August 2016 exempts vehicles with a remote-start from being ticketed if found running unattended. However, drivers must keep the keyless start fob far enough away from the car that the vehicle can't be moved.
CAAT Coalition Partners
Colorado auto theft task forces, made up of regional law enforcement agencies, Colorado State Patrol and other motor vehicle safety and insurance partners, are a part of the CAAT coalition to decrease auto theft during this peak auto theft season.
• CATPA Metropolitan Auto Theft Team (CMATT)
• Beat Auto Theft Through Law Enforcement (BATTLE)
• Colorado Attorney General's Auto Theft Prosecution Initiative
• Colorado Auto Theft Investigators (CATI)
• Colorado Auto Theft Intelligence Coordination Center (ATICC)
About Coloradans Against Auto Theft (CAAT):
CAAT is a statewide auto theft prevention initiative to raise awareness about the problem and educate the public on what they can do to reduce their chances of falling victim to auto theft. CAAT is a coalition of law enforcement agencies, the Colorado State Patrol, the Colorado Auto Theft Investigators (CATI), insurance partners, LoJack and AAA Colorado. CAAT and the state auto theft task force efforts are funded in part by the Colorado Auto Theft Prevention Authority (CATPA).
About Colorado Auto Theft Investigators (CATI):
CATI is a non-profit association of public, law enforcement and insurance industry investigators concerned with the prevention and investigation of motor vehicle thefts and kindred crimes; to promote the exchange of investigative information; and to create a forum for better communication among investigators in Colorado, the Rocky Mountain Region, and the Nation.
About Colorado Auto Theft Prevention Authority (CATPA):
CATPA is a state authority that was established by Colorado statute in 2003 to help reduce Colorado's serious auto theft problem through the award of grant funds. The Colorado law helps ensure that auto theft prevention efforts are targeted. These efforts have resulted in an increase in stolen vehicle recoveries and criminal prosecutions of major organized criminal groups, as well as related crimes.
###
Rocky Mountain Insurance Information Association is a non-profit consumer information organization. Affiliated with the Insurance Information Institute, RMIIA has been serving consumers and the media since 1952.